GA EAST MCE ANNOUNCEs QUARTERLY "NO MARKET DAY" FOR DISINFECTION OF MARKETS
Following the directive from the Presidency through the Ministry of Local Government and Rural Development (MLGRD) and the Ministry of Sanitation and Water Resources, the Ga East Municipal Assembly (GEMA), Abokobi, organized a clean-up exercise aimed at tidying up the markets as part of efforts to combat the spread of the Coronavirus Disease (COVID-19) pandemic.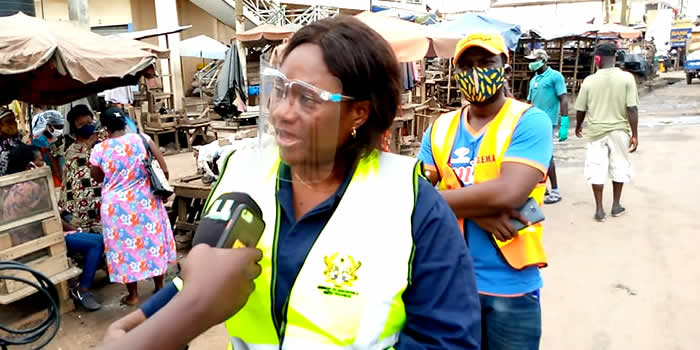 Date Created : 7/22/2020 7:25:40 AM : Story Author : Okunyin Boaz Orlan-Hackman
On Sunday, 19th July, 2020, the Ga East Municipal Assembly joined its peers in the Greater Accra Region to disinfect all markets along with the attached lorry stations and public toilets, in the Phase Two (2) of the National Disinfection and Clean-up Exercise.
The markets, lorry stations and public toilets, were cleaned by personnel from Zoomlion and the Assembly's Environmental Health Unit with support from the Municipal Guards and Assembly and Unit Committee Members.
The personnel desilited choked gutters, swept untidy areas and cleared rubbished piled. A number of Tricycles were deployed to aid in the collection of the refuse into an standby container/skip and compactor trucks.
With all the markets closed, the personnel has no obstructions as characterized with clean-up exercises undertaken in the various markets throughout the municipality at Dome, Taifa Main, Taifa-Burkina, Kwabenya, Haatso and Abokobi.
Military and Police Personnel were present to ensure orderliness and smooth undertaking of the exercise.
The Municipal Coordinating Director MCD Mr Matthew Tay and the Municipal Environmental Health Officer MEHO Charles Ampomah Asabre were among the Assembly Officials who ensured that the activities were conducted smoothly.
Speaking to the media after the exercise, the Municipal Chief Executive MCE Hon. Janet Tulasi Mensah, disclosed that the Assembly has planned to conduct quarterly fumigation and clean-up exercises in the markets to keep the markets safe and healthy for all who patronize it.
"We have instituted a quarterly 'No Market Day' for us to disinfect and clean up our markets, lorry stations and public toilets. We need to do this to make our public places healthy and safe for us all", the Hon. MCE stated.